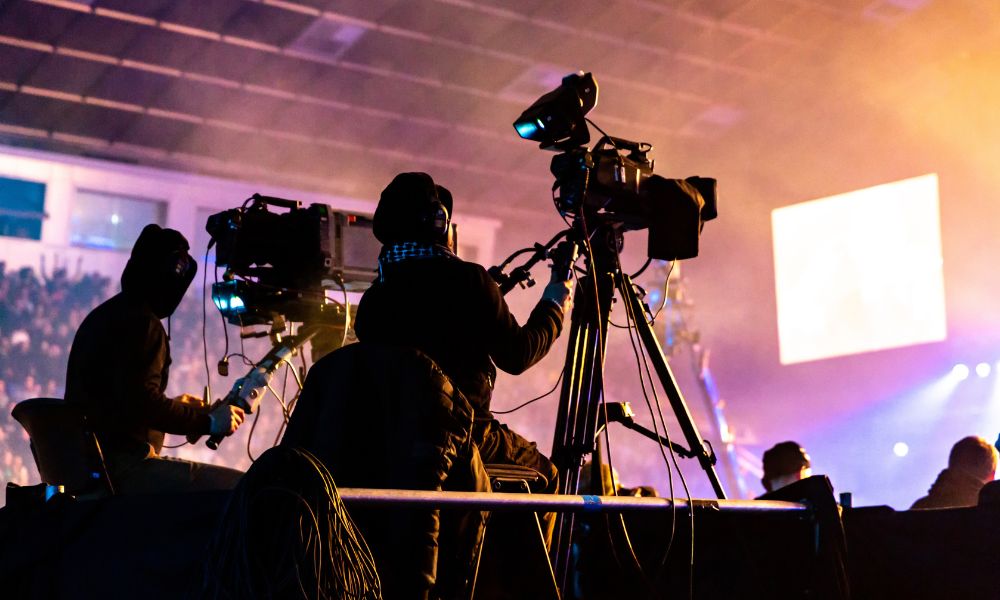 From plays at a local theater to a large-scale festival, you can use a professional-grade camera to shoot many different events. While filming a local event may seem simple, it requires as much precision and preparation as any other shoot. With so many ways to film any event, you should narrow your options to only the best hardware and practices for the job. That may sound daunting, but we're here to make that prep more manageable.
This comprehensive guide explores everything you need to know about shooting event videography. Anytime you need to sharpen your skills before an upcoming event, use this guide so you can avoid rookie mistakes on the big day.
Don't Improvise—Scout in Advance
Improvisation can work in some situations, especially when unforeseen issues occur during a shoot, but careful planning will go a long way. More specifically, plan where your perfect camera angles will be during the event. Find time to visit the venue and scout the ideal equipment locations as soon as possible. This will help you efficiently set up your hardware on the day of the event, and it also enables you to determine how many cameras you'll need, along with any additional gear.
If you show up to the event unprepared, you may wind up with directionless footage that doesn't take advantage of the venue or event atmosphere. Remember, it's not just about finding the ideal angles for shots, but also considering how the lighting will look, and whether the ground below the equipment is stable and level enough to shoot on. If your camera is on an uneven or otherwise unstable part of the venue, move it immediately to a more secure location. Use this principle for installing any piece of videography equipment during events.
Exploring Additional Angles
When considering your camera angles in the event venue, don't forget the different camera styles you can use to your advantage. For example, PTZ (pan, tilt, zoom) cameras have a versatile range of movements but are compact enough to mount in tighter shooting spaces. Moreover, you can use ceiling and wall mounts to open up your installation options in an invaluably versatile way. Keep this in mind when assessing the shooting space so you can brainstorm the best ways to mount your hardware.
Securely Isolate Equipment
You will have ample foot traffic when you're shooting at an event. Even if it's a small event, foot traffic involving untrained individuals near equipment is a hazard. If the videography equipment isn't properly secured, passersby may bump into it, trip over cords, etc. Suffice it to say that this can lead to equipment damage and injuries to anyone nearby. Use secure covers if you spot any cords that can trip passersby, but there is more planning that goes into proper equipment isolation.
For instance, when you're scouting for the perfect camera spots, ask the event planner where the most foot traffic will be throughout the event if you don't already know. That way, you can plan for your hardware to be in a place where it can capture high-quality footage without increasing the risk of costly damages and injuries. It also helps to know where the highest foot traffic is to guarantee your camera isn't in a spot where guests will block its view.
Stability & Security
Always make sure your hardware is stable, which goes beyond finding even ground space. A high-quality video camera tripod remains a perfect tool for capturing stable footage on sets, and that includes event spaces, too. Additional video equipment you can use to your advantage include professional-grade monopods and pedestals.
You can also explore accessories for the camera support equipment to help you better prepare for the event. For example, Ikan carries Hi-Hats online that stabilize and raise ball tripod heads. Articulating arms are another form of tripod accessory that makes it easier to mount and maneuver monitors, lights, and more videography tools.
Prepare Live-Streaming Essentials
To explore everything you need to know about shooting event videography, we can't ignore streaming tools. Are you planning to stream your footage to social media or another platform? If so, ensure you have all the streaming essentials, from video capture devices to teleprompters. While finding that equipment isn't difficult, the challenge comes when you must make space for it in the venue.
When you're shooting in the event venue, you only have so much room to work with, so understanding the size of the space is critical to guarantee you can fit all your equipment. If you can't fit your streaming and filming equipment, that's certainly an issue when it comes time to film.
Arrive Early & Efficiently
If you're shooting an event, you don't want to miss any opportunity to capture excellent footage. Thus, you should show up at the venue as early as possible so you can set up the equipment. Moreover, you can get any testing and troubleshooting out of the way if you show up early. As a result, you can avoid missing any great footage when the guests finally arrive at the event. As you can see, this is a straightforward tip, but it's critical to remember when you're balancing all the hardware-related issues before the big day.
Promote Healthy Crew Behavior
If you want to maintain a professional shoot, consider the health of your crew members. This is particularly important to remember during events because they are often long shoots that require ample standing and walking around with video recording gear. Plus, it can quickly become uncomfortable if the event is in a very hot or cold space.
Always allow your crew members time to take breaks to sit, relax, hydrate, eat, etc. That way, everyone will only be behind their respective hardware when they're at their most productive. When planning a shoot at an upcoming event, it's easy to focus solely on the equipment, but don't forget the people behind it. Take the time you need to use all the tips above for your next event, and see how much easier it becomes to capture professional-grade footage.