EG25A2D
The EG25A2D is designed for heavy loads and lots of rig accessories. With a maximum payload of 61.7 lbs., you can load this kit down with everything you need for the perfect, fluid shot. Teleprompters, matte boxes, base plates, follow focuses, filter systems, monitors, and on-camera lights are just some of what you can pile on to this kit and still have room to spare. The EG25A2D is a complete tripod kit that utilizes a 100mm bowl and also includes a dolly. The tripod kit & dolly come with their own carrying bags.
COUNTERBALANCE
The fluid head features adjustable counterbalance & drag settings that can be adjusted to accommodate different weight payloads. Counterbalance can be dialed into any of 15 stages ranging from 1 to 15. Pan and tilt drag can be independently adjusted in eight stages ranging from no drag at 0 to extra drag at 7.
SLIDE RANGE
The 60mm tripod plate mounts the teleprompter system to the fluid head and provides an extra 5.7 inches of sliding range to counterbalance your entire camera setup.
PAN & TILT LOCKS
The fluid head features individual locks for both the pan and tilt.
DUAL PANHANDLES
The dual panhandles allow you to maintain firm control on your shots. These panhandles also work perfectly for mounting zoom, focus, and iris controls. The length range for each panhandle is 16.7″ to 24″
100MM BOWL
The fluid head includes a 100mm bowl mount with a twist lock to secure the teleprompter and camera payload.
HEAVY-DUTY TRIPOD
The heavy-duty tripod is made of aluminum and the legs are a twin tube design with two stages. It includes the E-Image Mono-Lock design which allows you to control the height of both stages with a single twist lock. The full system, once completely assembled, can be adjusted to a maximum height of 75.5" and a minimum height of 37".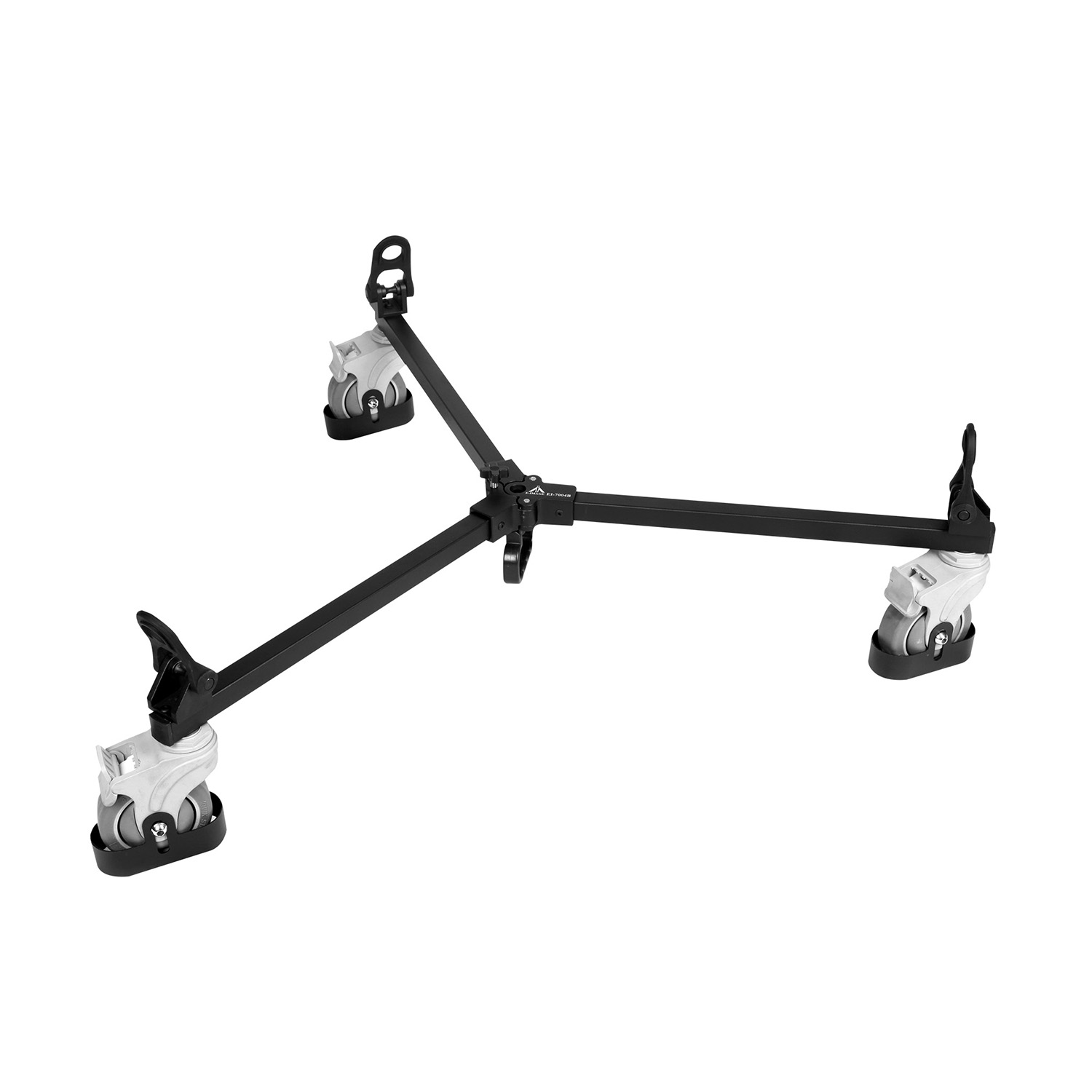 HIGH-CAPACITY DOLLY
The EI-7004B comes with cable guards and allows for quick and smooth movement for tripods weighing up to 132 lb. It is equipped with individually braked 4″ wheels with cable guards and folds for easy transporting. It's designed for use with all E-Image tripod legs that feature dual spiked feet. It supports up to 132 pounds and is ideal for moving tripods along a flat surface for quick re-positioning between shots and is designed to help you move heavy tripods from one camera position to the next.
This tripod dolly features 4″-diameter, non-marring rubber wheels with individual brakes, and a 39.4″ working base diameter. Once removed from your tripod legs, it folds for storage or transport.