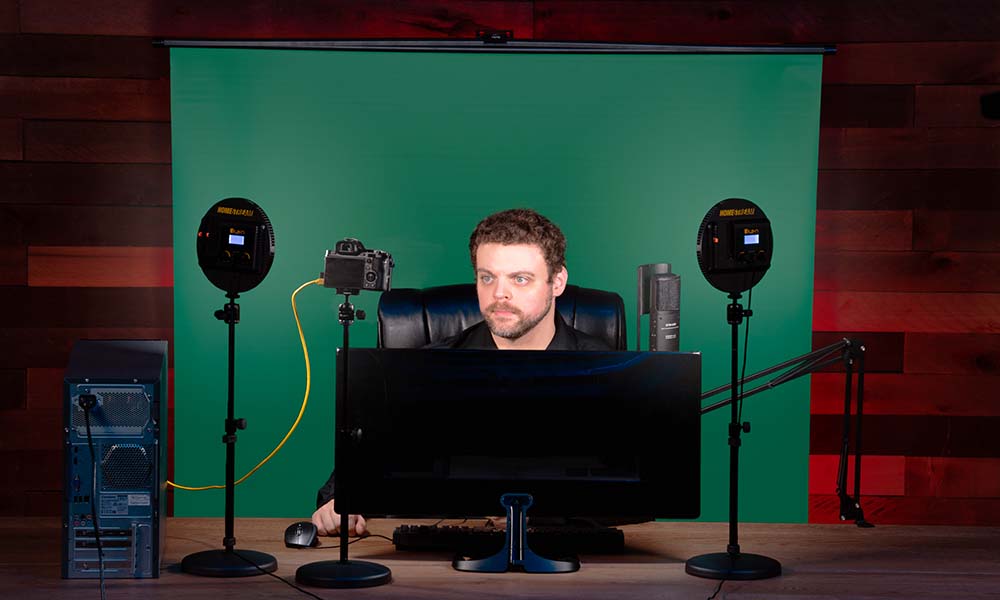 Now more than ever, it's very easy to begin streaming content, whether it's video commentaries, video games playthroughs, or something else entirely. That's why it's so important to know how to set yourself apart from the competition. These steps for how to start streaming from home will help you put on a professional, consistent production for your viewers.
Get the Right Video Equipment
A crucial part of engaging viewers is using the right video equipment. If the camera you're using provides a low-quality image, it will come off as amateurish instead of professional. As a result, you can wind losing viewers at a quick rate. There are three common types of video equipment you can use to stream: a professional camera, a webcam, or your very own computer screen.
If you want people to see you while you're streaming, then your webcam or a more advanced camera option are your best choices. If you just want the audience to see an image that's on your computer screen, such as a video game, then you can use the screen itself as a video source.
While using a webcam is a common and easy method for capturing video content, a more advanced device such as a DSLR, GoPro, or PTZ camera will provide you with a more professional look. PTZ cameras are particularly helpful for streaming video because, as the acronym suggests, you can control these cameras remotely to pan, tilt, and zoom with ease.
If you're using a professional handheld camera, put it on a camera pedestal for added stability. This will help you set up a good, consistent camera angle without having to worry about the camera tilting, sliding, or falling at random. When it comes to external cameras, use a capture card to send the data from your camera to the computer.
Something else to think about when buying a camera is how many video angles you'd like to create at once. By setting up multiple cameras, you have the opportunity to swap between angles during any given broadcast. This will give your stream some visual variety and an all-around more professional feel, especially if you have a high-quality set to show off. Suffice it to say that you don't want to show off a set that is messy or otherwise unappealing.
To make the most out of your camera, run some tests, and figure out a good lighting arrangement. Bad lighting can be a big detriment to your video quality. To provide your video with a solid lighting source, seek out a good ring light to help you out.
Invest in Good Audio Equipment
Good audio is just as crucial as a good video. Even if you have the most incredible video quality, viewers might tune out if your audio is too messy, quiet, or loud.
Just as you can use a built-in webcam for video, you can theoretically use your computer's built-in microphone for audio. While it's a convenient choice, you're sacrificing quality for that convenience. If you want to come off as a professional, you should invest in a high-quality USB microphone for capturing audio during broadcasts.
Get an Encoder
Encoders come in two forms: software and hardware. Essentially, encoders format your video and audio data in a way that allows it to be understood by the streaming platform you're sending it to.
Software encoders such as Streamlabs OBS are very common because they are easy to use. You simply install the software on your computer, and the encoder uses the device's processing power to format and upload the content you're streaming. If you choose a hardware encoder, you won't have to use a capture card because the audio and video sources will feed directly into the encoder.
Plus, you won't have to worry about using up the computer's processing power since the hardware encoder is its own separate device. Using both software and hardware encoders are fine options, but hardware encoders are typically the more reliable means of formatting your video and audio content.
Establish a Strong Internet Connection
A necessary step to take prior to beginning a stream is running an internet speed test. This will help you know whether your internet connection is strong enough to support your stream. One of the best ways to ensure your internet is strong and stable is by hardwiring into the modem instead of streaming via Wi-Fi. With a strong internet connection, you can avoid running into common issues such as excessive buffering or risk the stream stopping entirely.
Furthermore, make sure no other devices are using the same network while you're running the stream. If multiple devices are using the network you're streaming through, you may encounter fluctuations in the internet connection during your broadcast. A consistent internet connection plays a key role in broadcasting a consistent stream.
It's also key to make sure your bitrate and upload bandwidth align, which will be much easier with the help of an encoder. If your bitrate is high, which it will be if you're trying to stream high-quality, then it may surpass what your network upload bandwidth allows.
Cases like this will result in a low-quality streaming experience for your audience. Bitrate refers to the literal number of bits you're transferring from one place to another over a certain period of time. The higher your bitrate, the more information you're processing, which results in a clear, high-quality image.
Choose a Streaming Platform
Once you have all the equipment in place, find a good platform to stream on. If you already have an audience on a specific streaming platform, then that's likely going to be your best option. Your options include a dedicated website that you set up or existing streaming platforms such as Twitch and YouTube.
There are also social media platforms that support live streaming, such as Facebook, which offers streaming through Facebook Live, or Twitter, which offers streaming through Periscope. Each platform has its ups and downs, so be sure to do thorough research into each option before committing to a streaming platform.
Now that you know the essential tips for how to start streaming from home, you can begin building your audience and, in turn, building your brand's presence in the streaming industry. Making a name for yourself in a crowded marketplace can certainly be tough. Thankfully, using the techniques discussed above will help you start your stream off on the right foot and avoid a variety of novice mistakes.