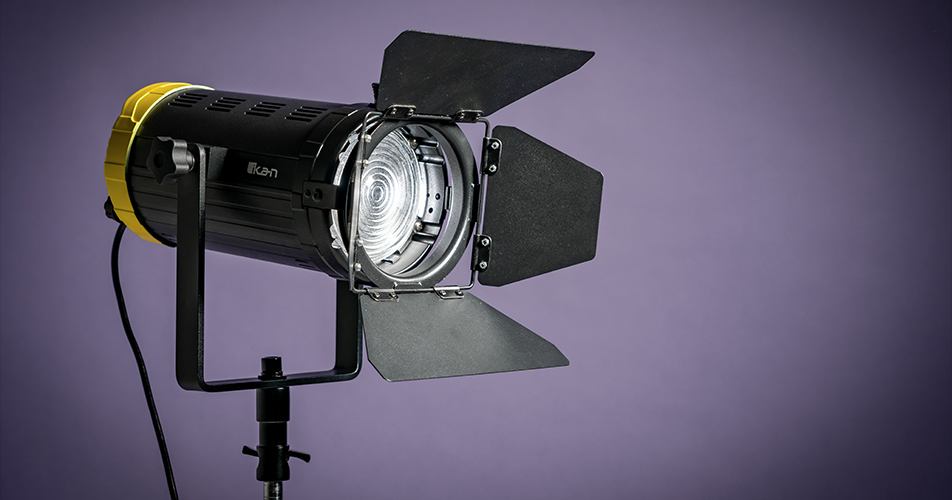 HOUSTON, Texas (March 27, 2018) – Ikan announces the release of the new Helia HF150 LED fresnel light. The Helia is a bi-color light, allowing for use in a variety of videography including broadcast, music, documentary filmmaking, corporate video and more.
"Since the light is a bi-color Fresnel, the HF150 light will give a lot of broadcast studios a chance to mix color more," says Product Manager Barry Garcia.
The Helia is a 4″ fresnel glass fitted with a bi-color 150 watt COB LED bulb with virtually no heat displacement. The HF150 is equivalent to a 650 incandescent watt. Ikan's newest light hits an impressive mark of 96 on both the Color Rendering Index (CRI) and Television Lighting Consistency Index (TLCI).
Ikan will showcase the new Helia LED Fresnel light at the NAB show in Las Vegas, NV from April 9-12, 2018. To test our latest technology, visit booth C10919.
About Ikan
At Ikan, we're filmmakers, too. Our staff is almost entirely composed of seasoned professionals whose first love is the world of film and video. As filmmakers, we understand the challenges our customers face on a daily basis. We know first-hand the need for reliable and dependable equipment. We sympathize with the moment a piece of gear going down during an important shoot, threatening your reputation. We also understand that while imagination may be limitless, budgets are not always. Whether an expensive Hollywood motion picture or an intimate wedding shoot, maximizing the value of the products purchased is of utmost importance. Because we understand these things, we feel a responsibility to continue to bring our customers the best available technology, quality, service, and long-term value across our entire product line.
Whether it's our lights, gimbals, tripods, monitors, or the hundreds of other production tools we've brought to the market, all of Ikan's products are created by filmmakers, to empower filmmakers. Ikan products are sold through authorized dealers located in more than 50 countries around the world and at www.ikancorp.com.
Contact
marketing@ikancorp.com
713.272.8822