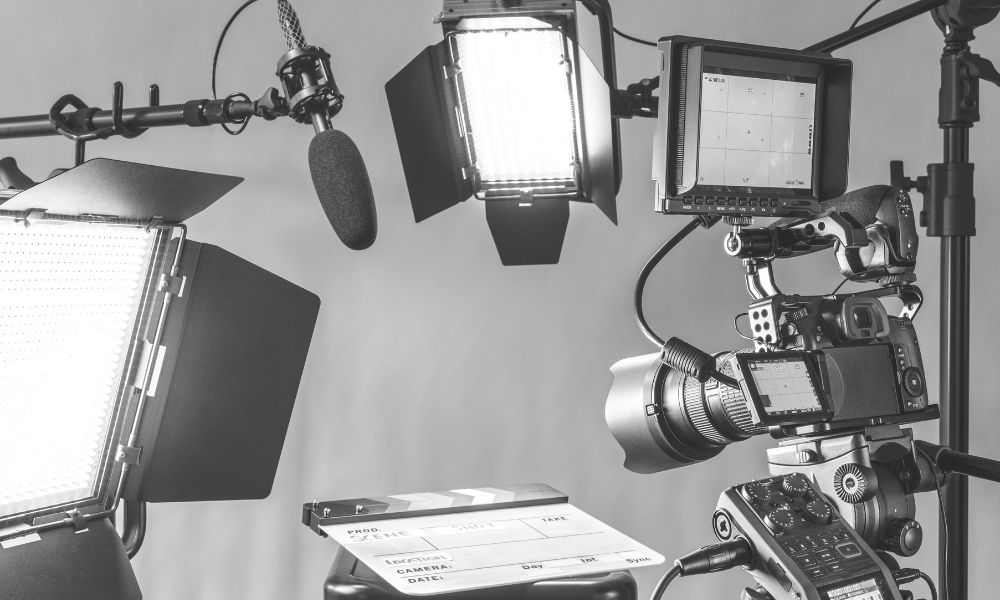 Technology plays a crucial part in the film industry. It influences what and how you shoot and affects the productivity of your production set. Although filming with limited tech is possible, achieving the best results and meeting today's film standards require high-tech equipment.
Like other technological devices, new camera gear enters the market constantly. Camera equipment constantly undergoes upgrades and updates that expand and change filming. Whether you need new equipment because your previous pieces ran their full course or you want to enhance and expand your production value, there are many reasons to upgrade. Investing in new and better film equipment enriches your filming technique and possibilities, maintains your relevancy in the industry, and streamlines your shoots.
No matter your reason for wanting equipment improvements, check out these tips on how to pick the best professional camera gear upgrade to guarantee the most fruitful investment.
Choose Gear That Complements the Rest of Your Equipment
Film and production sets operate with many different moving parts, from lighting and set dressing to camera recording and talent preparation. Each part of the set coordinates and works alongside another section of operations.
Choosing upgrades that complement your existing camera and production equipment makes sure everything on set works well together and stays coordinated on shoots. Mainly, ensure your camera and cables can connect with your lights, monitors, and control boards. Double-check that the devices use similar or supportive programs and digital systems. Lastly, consider whether your upgrades require adaptors. Lack of cohesion in your production setup causes multiple issues behind the scenes and in front of the camera.
Look Into the Care and Maintenance Requirements
Professional camera gear requires a decent budget size because it offers top-quality features and functionalities. This means the gear requires substantial care to ensure a profitable investment. Proper equipment maintenance extends the tech and gear's longevity and maximizes their quality, from performance to appearance.
Some of the best professional camera gear requires very little maintenance due to its reinforced durability and self-sustaining features. However, other top-quality equipment pieces require more maintenance because they consist of more delicate and rarer components. Sometimes, professional gear also requires very specific care, like the use of certain cleaning solutions and tools. Ascertain the care and maintenance requirements of prospective upgradable gear to determine the best options for you.
Opt for Gear With High-Quality Features
Upgrades should entail multiple enhancements. You don't want to switch to or invest in gear that downgrades your current capabilities and setup. Opting for equipment with high-quality features guarantees you the best upgrades. Here are some key indicators of top-quality camera gear:
Enhanced Durability
Good manufacturing produces quality camera gear. One of the main distinctions that makes top manufacturers excel over others in their industry is the type of materials they use. Quality products feature strong, durable, and valuable materials.
Extended Longevity
Due to its fortified and enhanced material structure, quality camera gear also possesses an extended life expectancy. This gear will outlast gear with generic materials by withstanding a lot more wear and tear over time. Therefore, quality gear provides you with a reliable long-term investment.
Improved Resolution
Better resolution leads to clearer and more detailed shots. The increase in pixels enhances images and recordings. Currently, 4K and full HD (1080 pixels) are the best resolutions in the professional film industry, and high-quality camera gear offers these resolutions.
Adaptable Image Formatting
Different production conditions require varying camera settings. The more adaptable formatting the camera gear offers, the greater your abilities on set become. Look for features that allow you to adapt aperture, sensory sensitivity, brightness, zoom, and RAW and JPG file formats.
Select Upgrades That Expand Your Abilities
Working with upgraded camera equipment should extend your capabilities on set. It should minimize limitations, allowing you to explore and broaden your footage quality and production techniques. Selecting camera gear upgrades that expand your abilities equips you with ideal work conditions.
Equipment that broadens your capabilities features the following elements:
Multifunctional properties
Interchangeable components
Portability
Adjustable characteristics
Adaptable parts
Consider What You Want To Achieve in the Future
Most successes begin with an idea, dream, or goal. These foundations set you up with a motivational drive that expands your current possibilities and opportunities. Considering what you want to achieve in your film future allows you to determine what you need, from filming abilities to specific production and camera properties.
For example, if you plan to shoot in multiple locations, you'll want to invest in upgradable camera gear with portable features. Teleprompters and compact cameras give you the best equipment for upgraded live shoots and broadcasts. Also, upgrading your filming gear with a PTZ camera bundle equips you with essentials to film remotely without limiting your camera operations—zooms, directional adjustments, and horizontal and vertical rotations. Consider what you want to achieve in the future and select upgraded camera equipment that caters to those desires.
Shop With Trusted Industry Experts
The modern world houses an array of different types of professional camera gear to explore. This gear varies in features, functionality, and design. With a diverse selection to comb through, deciding what you need and what the best option is can be challenging. Shopping with trusted industry experts ensures you pick and buy the best camera equipment upgrades. These industry experts guarantee quality, functionality, and compatibility with your needs.
Experts provide lots of knowledgeable insight that will direct you to the right upgrade choices. Their professional experience and rich background with cameras and related equipment give them the credibility that ensures you leave with the best gear. For instance, Ikan consists of a team of film and camera experts who can provide you with a carefully selected inventory of professional equipment. We've narrowed down your options for camera upgrades to a selection of the best in the industry to make the process easier for you.
With these tips on how to pick the best professional camera gear upgrades, you can enhance your filming production with Ikan's expert inventory of equipment. Like when you are building, cooking, and playing a sport, the filming tools and equipment you have affect your final results and performance. Equipping yourself with the best professional gear improves your film shoots, streams, and any on-screen and behind-the-scenes camera work.