When choosing a lighting kit, it's always best to consider what you're shooting and your overall goals for the video or photo. Since there are a variety of lighting kits to choose from at Ikan, we wanted to make it easier for you to compare them.
We started out by just offering 2-point and 3-point lighting kits and realized that we could serve our customers better by giving them more options. Because of this, we are adding 5-point lighting kits as well as combo kits. The 5-point and combo light kits come in Daylight (5600K) as well as Bicolor (3200K-5600K).
The 5-point lighting kit offers the 3-point lights you'll need including the key light, the fill light, and the backlight, as well as 2 additional lights, which can be used with a green screen or lighting any background. With this kit, you get 5 lights, 5 stands, 2 bags to carry lights, and 2 stand bags. This kit helps you create whatever lighting setup that you want with a variety of Lyra lights or Rayden lights.
The combo lighting kit offers you more versatility because you can mix and match lights from the same line. For example, you could use a combination of Lyra lights such as a 1×1 for the key light, a ½ by 1 for the fill light, and a ½ by 1 for the backlight. You could also get something like the Rayden Daylight 5-point lighting combo kit and get 3 RW10s and 2 RW5s. Depending on what you're trying to accomplish and what your shooting conditions are, the combination light kit can help you customize which lights to use. The maximum amount of lights you can get in a combo lighting kit is 5 while the minimum is 3 lights. All lighting kits come in either the Lyra line or the Rayden line and can't be combined.
Benefits of Having a Lighting Kit vs. a Single Light
So why should you buy a lighting kit instead of just a single light? The answer is simple. With a lighting kit, you'll get more lights, which means better looking footage and overall better looking videos. The more lights you have to work with, the better the footage will be. Also, single lights don't come with a bag or stand. By bundling your purchase together with a lighting kit, you can save money and transport your lights easier with the included bags and stands.
Lyra Soft Lights vs. Rayden LED Lights
In the Ikan lighting kits, you can choose between getting Lyra soft lights or Rayden LED lights. What's the difference?
Lyra Soft Lights
Lyra soft lights create a nice, clean shadow on any subject. These soft lights combine high CRI LED chips with a soft panel to create a beautiful, soft wrapping light as well as consistent color and brightness. With the Lyra soft lights, you can adjust all settings with a single knob and view the light output with precise measurements with the new LED readout. By using Lyra soft lights, you don't have to do too much in postproduction to make the subject look better because soft lights are flattering. You also don't have to add a soft box around it so using soft lights reduces the space needed to shoot videos or photos.
Rayden LED Lights
Rayden LED lights offer high CRI 45-degree lenses to produce extremely bright light. With a 50-degree beam angle, you can easily light a large area with one fixture. The key feature of Rayden LED lights is its versatility: the 30-degree yoke, baby 5/8" and junior 1 1/8" combo pin allow you to attach and configure the light in different ways. The Rayden LED lights are brighter and sharper and gives subjects a harder edge. Depending on the type of lighting you're trying to create, Rayden LED lights are more versatile because you can always make harder lighting softer. For example, if you're trying to light a chroma key and you want brighter light, then you can use a Rayden LED light. If you decide that you want softer lights after using the Rayden LED light, then you can use gels to soften the lights. Rayden LED lights are better lights to use if you're using a green screen because you can easily adjust by going from a hard light to a soft light.
How to Choose a Lighting Kit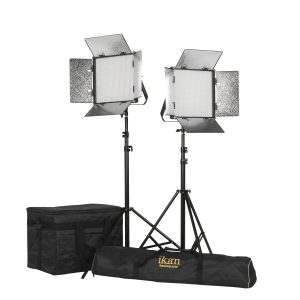 So now that you know that having more lights is better for your videos or photos and the difference between Lyra and Rayden LED lights, how do you choose what kit to get? Here's an overview of the different kinds of lighting kits available from Ikan:
2-point lighting kit
The 2-point lighting kit gives you the ability to have a key light and a backlight. When using a 2-point lighting kit, you need to fill with a white card, reflector, or the sun. This kit is great for interviews, documentaries, news, and corporate videos. This lighting setup gives you the ability to do interviews or capture B roll.
Standard lighting kit (aka 3-point lighting kit)
The 3-point lighting kit or the standard lighting kit includes the key light, the fill light, and the backlight. This lighting setup can be used for anything and most lighting is 3-point. You can also use a 3-point lighting kit to highlight an object from the background.
5-point lighting kit
The 5-point lighting kit includes everything in the 3-point lighting kit plus 2 additional lights. This lighting kit is useful for interviews, lighting backgrounds, chroma key, or just lighting any environment that a subject is sitting in (ex. House, office).
Combo kits
The combination lighting kits give you the ability to pick a variety of lights. Combination kits are great for shooting B-roll or really any video. You can position the lights to draw attention to certain subjects in the video. Combo kits are also great for shooting documentaries, the news, narratives, corporate videos, and music videos….basically any video you can imagine.
When choosing a lighting kit, it really just depends on what you want to shoot. All Rayden and Lyra lights come in 1×1 or ½ x1 sizes.
Want to learn more about Ikan's lights and other new products? Subscribe to our free Ikan newsletter.