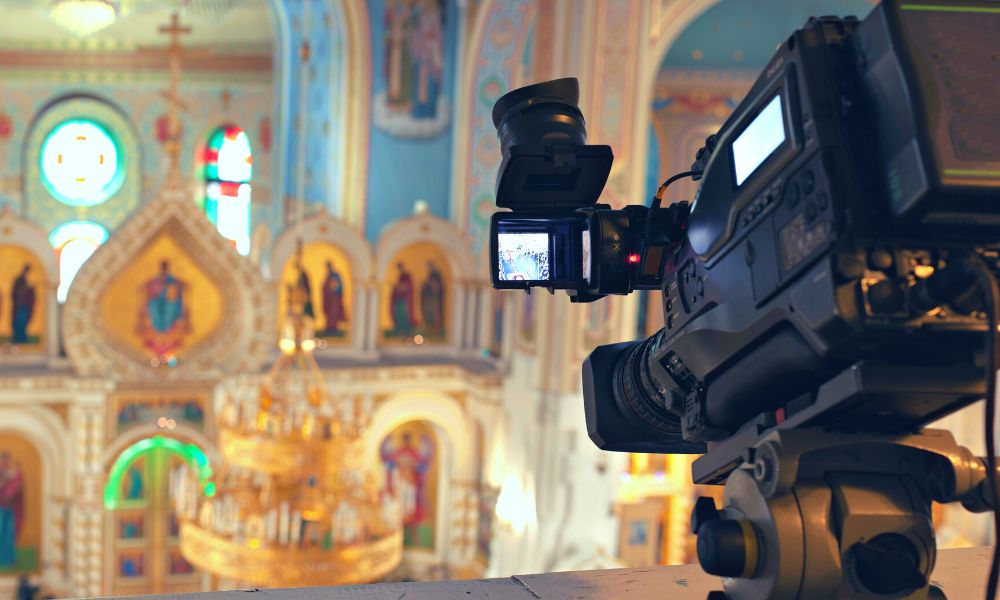 Church services strengthen people's relationship with their faith, just like religion bonds individuals into communities. Live streaming further expands those connections. Taking your sermons, prayers, religious events, and community gatherings online allows you to establish a virtual church. Use the digital world to increase people's access to your community and services and offer many more benefits.
Read on to learn how to begin live streaming your church services and make the most of establishing a virtual proponent of your place of worship.
The Benefits of Live Streaming Services
Live streaming your church services allows you to reach those who:
Live far away
Are nervous about attending
Prefer to worship in solitude
Lack transportation
Cannot commit to full services
Broadcasting your services provides a way for many to remain involved in your community, no matter the obstacles present in their lives.
Live streaming services also attract new members to your church, especially younger crowds. Generation Z and millennials grew up and continue to grow in the digital age. They interact with numerous other forms of streaming content, including Youtube, Twitch, and various social media platforms, as a means to connect with varying communities, resources, and people digitally. Live streaming your church services appeals to those generations who live most of their life with technology.
Other benefits of live streaming include:
The ability to share and keep records
Enhancing inclusivity

Giving people the option to add subtitles
Translation capabilities
Increasing volume for easier hearing
Streaming also provides some unique benefits that suit church services well. For example, live streaming and digital services allow you to provide clear visuals of the speakers and performers for the audience. Additionally, you can open up donation and funding opportunities through video monetization and generates engagement opportunities.
Investing in the Right Streaming Equipment
Streams give people the opportunity to experience services from the comforts of their homes without distractions. Quality streams make sure anyone watching receives an experience that mirrors what those seated in the front row see.
Investing in professional video production equipment allows you to provide the full experience of the service with quality visuals, sound, and production aspects that bring your live stream to life. An enhanced stream provides a more enjoyable experience and allows viewers to still feel fully connected.
Recording Devices
There are many ways to record and capture live stream content, from smartphones and tablets to webcams and professional cameras. Although some recording devices less technical and more convenient filming options, investing in a quality camera offers many more benefits. These tools provide better visuals, higher-quality streaming capabilities, more recording and filming options, and long-term durability.
Pan-tilt-zoom (PTZ) cameras are one of the best streaming recording devices available. They give you remote control abilities, flexible angles and filming positions, and the ability to connect multiple camera setups to a single network and control board.
Production Systems
Producing a stream involves many moving parts, from the camera and audio technicalities to the broadcasting requirements. Investing in quality production systems, such as control boards, gives you a central hub for overseeing and controlling each different aspect of your production. When streaming in large venues, a production system panel is essential to maintaining access to all the necessary equipment remotely. Investing in a production system saves you the time you would otherwise spend running between different spots and managing multiple helpers.
Essential Lighting
Lighting is an essential component of video production. Although overhead lights provide adequate illumination to brighten up spaces, they cast annoying shadows, blend speakers into their background, and wash out subjects.
Buying professional production lighting allows you to create cleaner and better quality lighting conditions both on camera and in person. Lights make your subjects stand out and bring to life the images on the screen to viewers, further enhancing their streaming experience. Using more professional lighting over generic building lighting also allows you to set the tone and mood of services.
Audio Options
Between the sermons, prayers, and sung hymnals, sound will remain a major proponent of church services. Although most recording devices come with built-in audio features, they struggle to capture sound accurately, especially in large spaces.
Equipping service leaders with mics and using quality audio equipment makes sure streamers aren't missing out on anything. They improve sound clarity and quality, enhancing the stream and better replicating the live experience.
Streaming Accessories
Additional examples of professional streaming equipment worth investing in include:
Camera stands and mounts
Teleprompters
Monitor screens
HDMI and SDMI cables and converters
Headsets for the crew
High-speed internet
Promoting Your Live Streams
Marketing your recorded and broadcasted services allows you to invite new people to watch your streams. The more you spread the word, the more your audience will grow.
Promote your streamed services in weekly newsletters to church members, on the back of service itineraries, and on social media. Hosting volunteer opportunities in streaming production also spreads the word to your community and builds excitement.
Where To Upload and Share Your Streams
Many digital spaces and platforms provide streaming capabilities. The most popular streaming sites to broadcast through include Youtube, Twitch, Vimeo, and Facebook. Each broadcast platform involves different pros and cons, streaming features for both the streamers and viewers, and financial and legal proponents.
Choosing where to upload your stream affects the accessibility of your stream, quality, and live engagement. Depending on the type of service experience you want to generate, different websites and platforms provide the best fit for your needs. If you can, you should consider streaming on multiple platforms to further broaden your audience reach and maximize your inclusivity.
Making your church and community accessible to the digital world allows you to spread the joys and messages of your services to a grander population. It allows you to reach those who can't join you in person and make sure members of your church—near, far, busy, or otherwise—still get to engage and invest in your services.
Enhance your member's and community's connection to your establishment with this basic how-to-guide on live streaming your church services. With the right equipment, adequate promotion, and the perfect streaming site, you can relish the many benefits live streaming your church services offers.