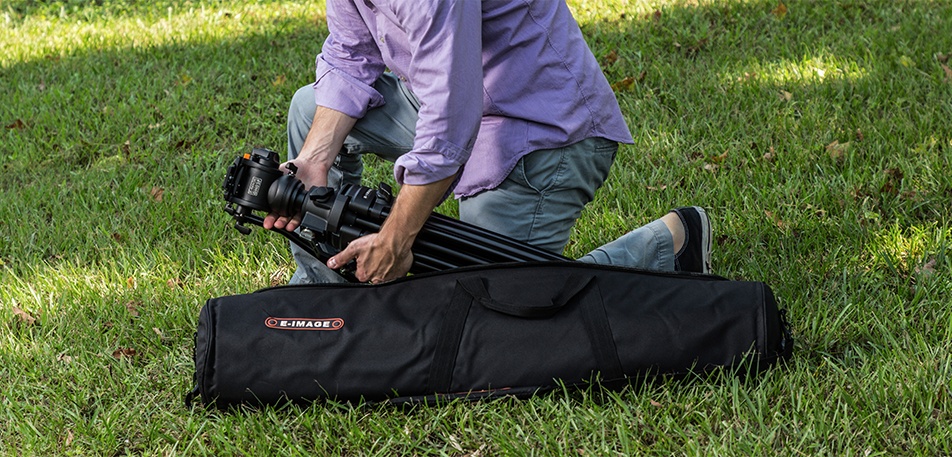 EG03FA3
The EG03FA3 tripod kit from E-Image is a tripod designed for vertical reach. The rising center column, combined with the GH03F fluid video head, gives the user an impressive height range of 37-3/4″ to over 8 feet at 97-1/4″ all. Stability is important at those heights, so the EG03FA3 is equipped with thick bottom-stage legs and retractable spikes in the feet for soft or uneven ground.
GH03 Fluid Video Head
The GH03F has a recommended maximum payload of 11 lbs., and a flat base with a 3/8-16 threaded mounting point. Pan drag and Counterbalance are installed and fixed, while the tilt drag is variable and controlled with a dial on the side of the head. The pan and tilt axes can be independently locked. The GH03F includes a GB1 panhandle and a GP1 quick release plate with a handy snap-in function to make camera mounting quick and easy.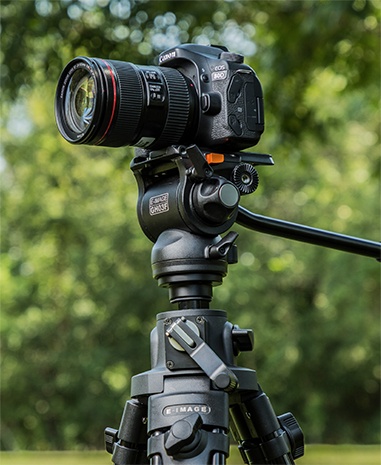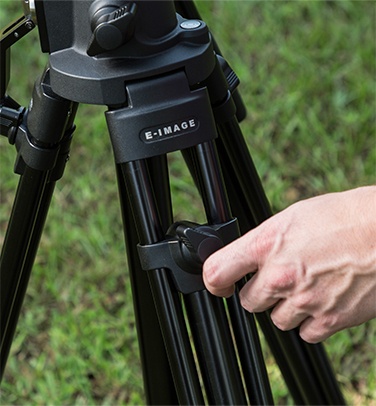 GA230 Aluminum Tripod Legs
The GA230 adds pedestal action to the pan and tilt movements of a video tripod head. Topped with a flat mounting surface and a 3/8-16 mounting screw, the GA230 will accept most standard video heads with a flat base. The housing of the central column acts as the anchor for a mid-level spreader, and the arms of that spreader hold the included stone bag for easy gear and accessory storage. Each leg has two independently lockable stages and ends in a rubber foot that can be twisted to reveal a spike for soft ground.
Above and Beyond
The EG03FA3 gives the user the elevation they need for high-angle shots and shooting over crowds. This is especially helpful in situations like sideline sports filming, wedding videos, and localized house of worship broadcasting. Finer height adjustments, like you might see in a series of interviews, also become easier with this kit.