EI-7100H-KIT
Developed as a practical camera mounting solution for small studios, churches, and schools, the EI-7100H-KIT is one of the most economical studio pedestals on the market. Based around a central air-dampened adjustable column, the EI-7100H-KIT has a load capacity of just over 33.1 lbs. and a maximum height of nearly 6'.  The included 7100H fluid head features five levels of adjustable counter-balance, the heaviest drag in its class, and a 60mm sliding plate with dials suitable for outdoor photography and broadcasting.   For stability, the dolly has independent locks on all three studio-style wheels.  This package is perfect for broadcast shoots requiring consistent camera repositioning and heavier studio equipment which would prove to be too heavy for a standard tripod.
7100H FLUID HEAD
The GH20 head features a 100mm bowl, 33.1 lbs maximum load capacity, and a five-position counterbalance system. Counterbalance can be adjusted in five stages ranging from no counterbalance at 0 to extra counterbalance at 5. The head comes with a large, studio-style, quick-release mounting plate that helps to balance large studio cameras or teleprompters. It features two rosettes where you can connect the two included padded panhandles. The mounting plate also has a 6″ slide range. The fluid head also features individual locks for both pan & tilt.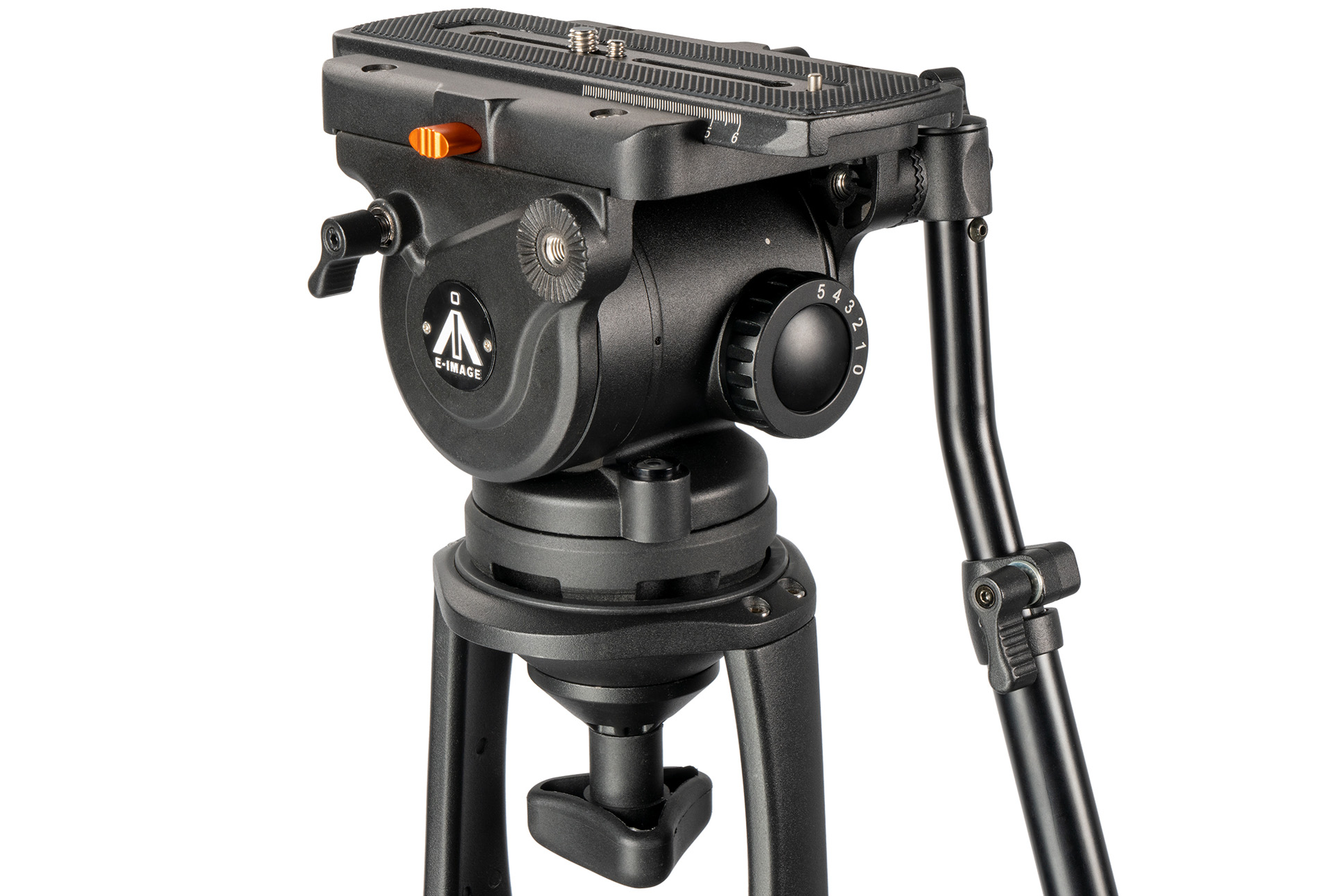 AT7903A PEDESTAL
The pedestal tripod legs feature a flip-lock leg design as well as an adjustment lever, which allows you to quickly adjust the pedestal height from 46.2″ to 78″. The "air-assist" center column has a dampening function that helps with the movement of heavy loads. The EI-7004 dolly features three locking rubber wheels, a load capacity of 132.3 lb, and a 39.4″ footprint diameter, and it can be removed from the legs and folded for transport and storage.
EI-7004 DOLLY
The E-Image Pedestal Dolly supports up to 132.3 pounds and is ideal for moving tripods along a flat surface for quick repositioning between shots. Once removed from the tripod legs, it folds easily for storage or transport. This dolly is perfect for both studio and location use where support for heavy setups is a requirement.