The CVM-VM10-K3 from Comica is a Cardioid directional microphone kit for Smartphones. The CVM-VM10-K3 includes a Bluetooth Start/Stop REC controller. It is compatible with iPhones when using the Lightning interface adapter dongle from Apple.
Universal Design: Suitable for 54mm~95mm width smartphones, even single-handed holding can still provide a very stable shooting. Compatible for iPhone and other brands of most smartphones.

Professional Cardioid Directional Mic: CVM-VM10-KK3 mini microphone is mainly made of aluminum material, the included shock-absorber can dramatically reduce the noise from vibrations.

1/4inch External Port & Hot Shoe Mount: Bottom & top 1/4-inch external port and hot shoe can mount for tripod & video microphones / LED video lights, You also can mount the bottom 1/4 external port with a slider or dolly.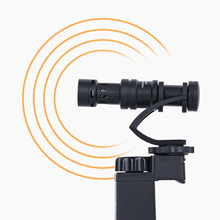 Cardioid Pattern
CVM-V10-K3 Mini Microphone features a directional cardioid polar pattern that minimizes unwanted noise and focuses on the direction of which it's pointed.
Phone Holder Width
The phone clamp holder is compatible with iPhones and Android smartphones. It fits smartphones from 2.16 inch to 3.93 inches wide.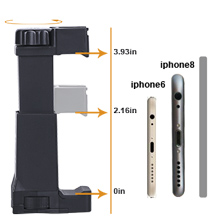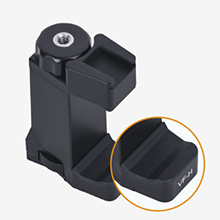 Non-slip Surface
The silicon on the inside of the smartphone clamp will stabilize the phone while protecting the edge of the phone from damage.
Detachable Electronic Bluetooth Remote Control
The detachable Bluetooth One-touch remote controller lets you start and stop recording from a distance. This is ideal for single-user shooting.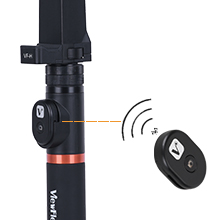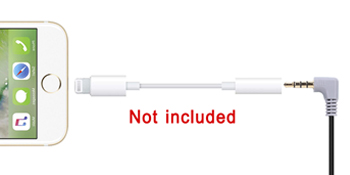 Different Versions:
CVM-VM10-K1: VM10II Microphone+ Smartphone Clamp+ Handle
CVM-VM10-K2: VM10II Microphone+ Smartphone Clamp+ Mini Tripod
CVM-VM10-K3: VM10II Microphone+ Smartphone Clamp+ Bluetooth Remote Control
CVM-VM10-K4: VM10II Microphone+ Smartphone Clamp+ Handle+Connecting Rod