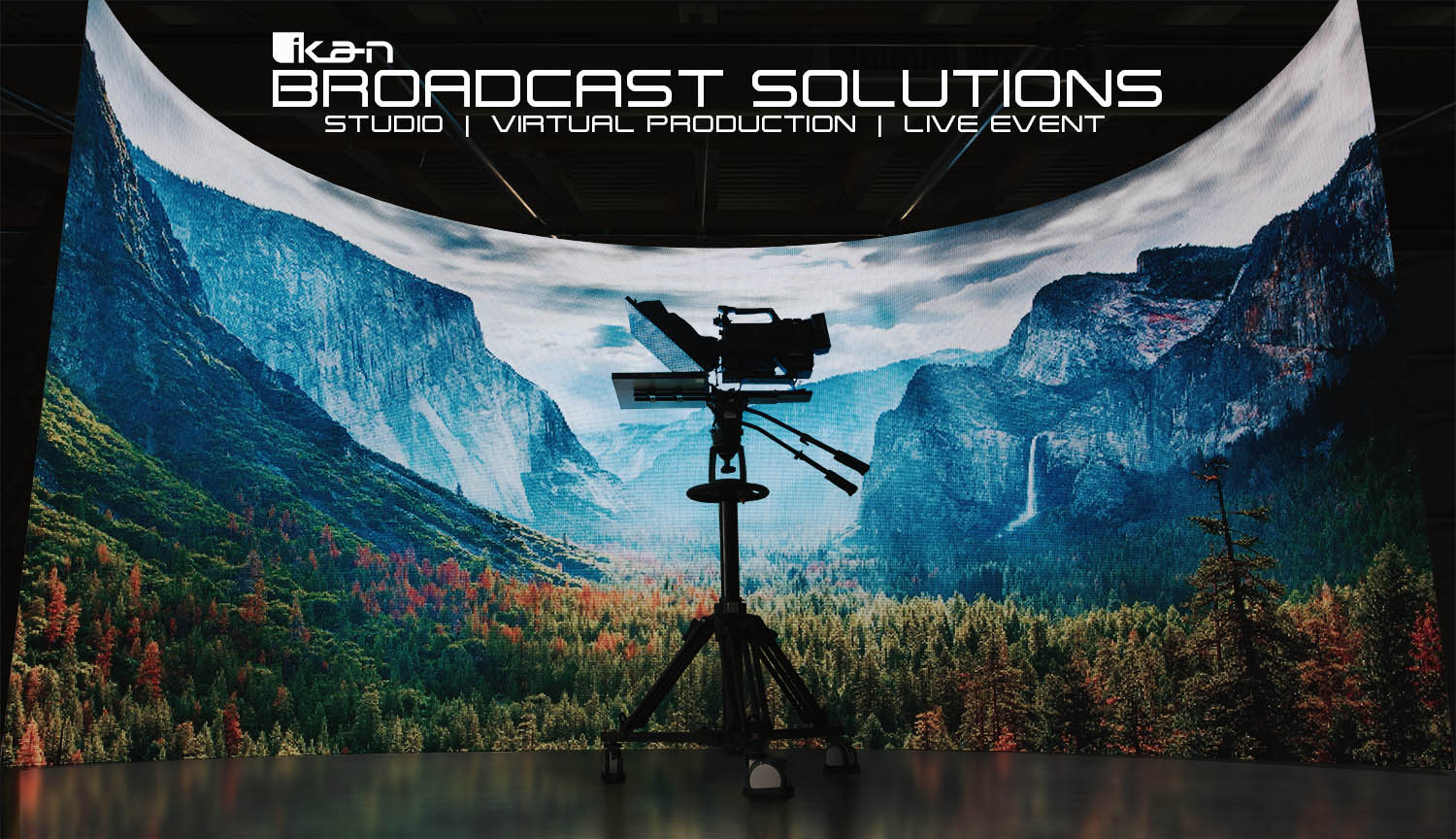 TURNKEY BROADCAST SOLUTION
Ikan's Turnkey Broadcast Solutions include everything you need for your professional camera setup. This solution includes a 17″ teleprompter, pedestal, and dolly. All of our systems have been tested internally for payload compatibility. The teleprompter features a 17″ 1000 nit (cd/m²) monitor, 70/30 20″-wide beamsplitter glass, and a 20′ reading range.
The remaining payload capacity, after mounting the full 17″ teleprompter without the counterweight, can accommodate camera setups up to 35.5 lbs. The pedestal, without the teleprompter system, can accommodate cameras up to 56.8 lbs. This solution also includes a hard case for the pedestal and a carrying bag for the dolly.
17-INCH TELEPROMPTER SYSTEM
Ikan's 4th generation professional teleprompter series is designed for a quick and easy setup to work efficiently in outside broadcast applications or professional studios.  The lightweight aluminum teleprompter has multiple 3/8-16″ and 1/4-20″ for mounting to a pedestal. The teleprompter monitor includes SDI, HDMI, & VGA inputs.
EXTREME CLARITY
The high quality 70/30 made-in-America teleprompter glass provides the perfect balance of reflection and pass-through without distorting the image.  With 1000 nits the prompting image will always be crisp and visible whether you're under the sun or studio lighting.
LARGE RANGE OF CAMERA COMPATIBILITY
Our professional line teleprompters not only include four different camera mount bases but also counterweights to allow for a large range of different-sized cameras to work.  The base can conveniently slide to adjust the weight without the need to remove the plate.
Height of Riser Plates:
Short – 2.06 inches/52.5mm
Medium – 3.74 inches/95mm
Tall – 5.31 inches/135mm
Extra Tall – 6.29 inches/160mm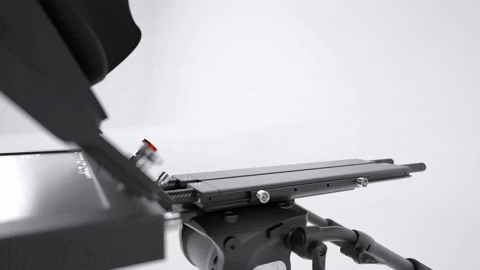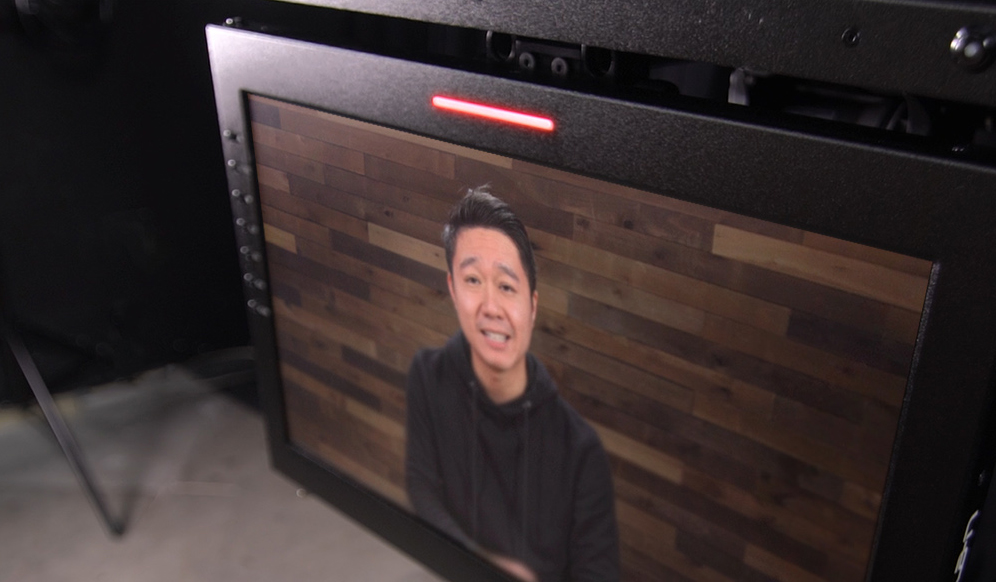 BUILT-IN TALLY LIGHT FOR ON AIR STATUS
The M19W monitor features a tally light that illuminates red, green, and yellow. This means that a director can cut between cameras and the tally color will let the on-camera talent know which camera is live. Yellow tally lights are typically used  as a way to signal to the talent, crew, and director that a camera is about to go live, and to be ready for the shot. A green tally light is typically used to indicate that a camera is in preview mode. This means that the camera's output is being sent to a monitor, but it is not currently on air. This allows the talent, director, and production crew to check the composition, focus, and other aspects of the shot before it goes live. A red tally light is used to indicate when a camera is live or on-air.
WIDESCREEN TALENT MONITOR
The Teleprompter includes a 19-inch widescreen 3G-SDI Talent Monitor. A new mounting system enables you to conveniently attach the monitor right below the teleprompter to let on-camera talent see their presentations live. The monitor features 3D-SDI, HDMI, and VGA, inputs. The native resolution is 1920 x 1080 HD and max brightness is 1000 nits. The OSD adjustment menu allows adjustment for contrast, brightness, backlight, tint, chroma, sharpness. You can also adjust the intensity of each RGB color channel. Aspect ratio can be set as 16:9, 4:3, full, or it can be set to automatically detect the aspect ratio and set it accordingly. When plugged into a compatible video switcher, the talent monitor utilizes a red/green tally light that lets you know when your camera is live.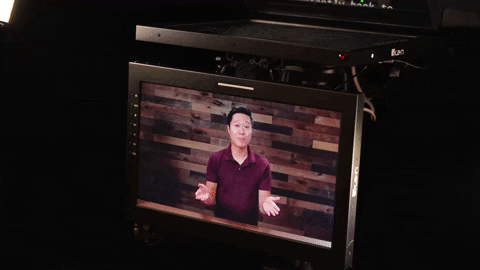 IMAGE FLIP BUTTON
The M19W Monitor features an image flip button that allows for both horizontal and vertical flipping of the displayed image. This feature enables on-camera talent to view themselves as if they were looking into a mirror, giving a greater sense of comfort during filming.
SLIDE RANGE
The 60mm tripod plate mounts the teleprompter system to the fluid head and provides an extra 5.7 inches of sliding range to counterbalance your entire teleprompter and camera setup.
PAN & TILT LOCKS
The fluid head features individual locks for both the pan and tilt.
100MM BOWL
The fluid head includes a 100mm bowl mount with a twist lock to secure the teleprompter and camera payload.
DUAL PANHANDLES
The dual panhandles allow you to maintain firm control on your shots. These panhandles also work perfectly for mounting zoom, focus, and iris controls. The length range for each panhandle is 16.7″ to 24″
DRAG/COUNTERBALANCE
The fluid head features 15-steps of adjustable counterbalance system, and 8 steps of pan & tilt dampening.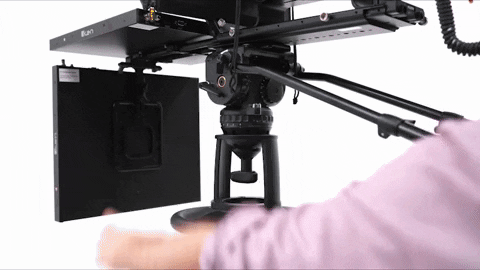 PNEUMATIC PEDESTAL
This pneumatic pedestal includes an air pump to inject air into the center column and an air release allows you to fine-tune the balance. After the perfect balance has been achieved, adjusting the height of the center column will be effortless. The pedestal system, without the teleprompter, can support payloads weighing up to 61.7 pounds. The on-shot stroke of the center column is 15″.
CARBON FIBER LEGS
The pedestal features dual carbon fiber legs for each section. When mounted onto the heavy-duty dolly, these pedestal legs can provide support up to 66 lbs.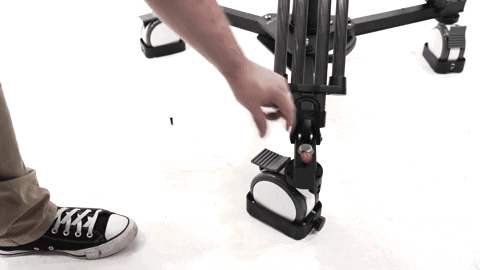 VERSATILE DOLLY SHOTS
The dolly base has track lock wheels to maintain direction during complex dollying and tracking shots. By locking the wheels in certain positions, radial arc shots can also be achieved.
EASY TO BALANCE
The 17-inch Teleprompter includes a rail which allows you to easily balance your entire teleprompter setup. You can offset the entire teleprompter setup up to 7 inches.