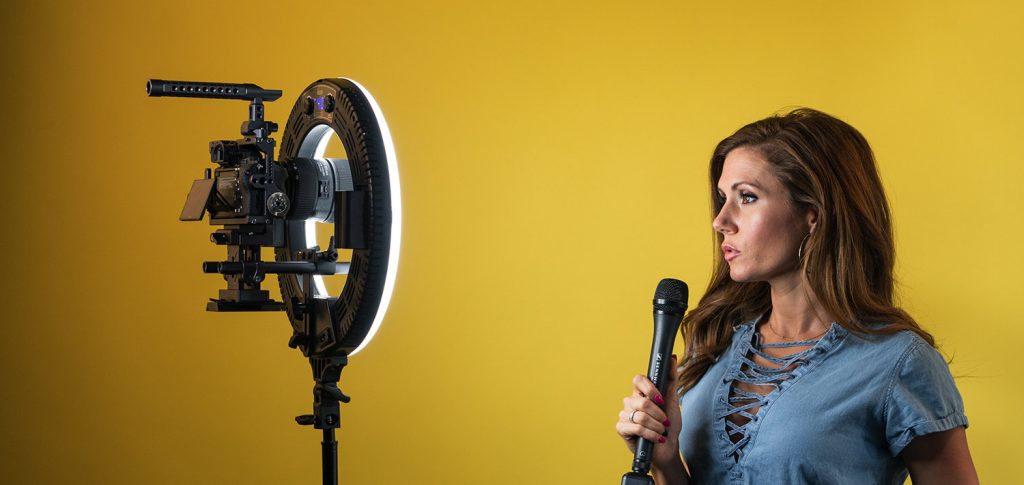 RLB40
The 14″ multi-mount ring light kit has just the right amount of illumination to give any subject that sparkle in their eyes. The large diameter opening allows for any size camera to be used with the light. The soft diffused LED's give the ring light a bright but wrapping light that makes your subjects glow. The control knobs on the back of the allow you to quickly switch from brightness to color with a simple push of the button. The custom 15mm camera mount system allows the professional to adjust the camera to any height. The heavy-duty compact stand folds up tightly and makes it easy to carry. With two Sony L batteries and Dual charger included, this light gives you up to 4 hours of uninterrupted light.
High CRI & TLCI
The large 14″ ring light has a soft wrapping quality and features a high CRI:95 and a high TLCI:95, allowing the user to know what they're getting from the light.
Bi-Color Adjustable and Dimming Control
Dedicated button controls allow users to change the brightness and dial in the right color temperature 3200K – 5600K in any situation.
15mm Rod Mounting
The 15mm rod mount will allow any system that has 15mm rods to attach to the light.
Battery Powered
Powered by two Sony style batteries, this light will last 4 hours at full power giving the professional an extended time for filming with battery power. The pro battery charger quickly recharges the batteries for use out in the field.
Heavy-Duty Compact Stands
The heavy-duty compact stand sets up and collapses quickly and easily for smooth run time and allows the ring light to be placed in any production situation.
Permanent Diffuser
The 1/2-stop diffuser gives the light a nice soft wrapping quality.