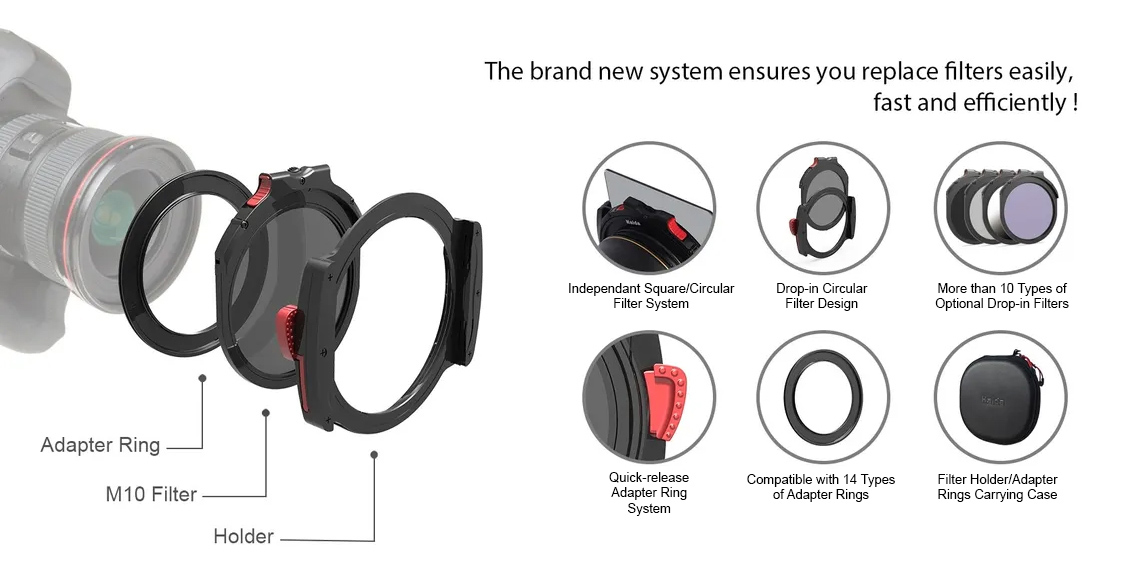 This Haida M10 Filter Holder Kit is designed to allow for the convenient use of up to three (separately available) 100mm wide, 2mm thick filters. It can be fitted on any lens with a 67mm, 72mm, 77mm or 82mm front filter thread.
The kit consists of three main components, an M10 Filter Holder, the four filter holder adapter rings, and a drop-in circular polarizer. Pre-installed with two pairs of plastic filter slots, the aluminum-alloy filter holder is initially configured to accommodate two rectangular filters and can be easily upgraded to accommodate three square filters using the included extra slot. The use of the filter holder can be easily accomplished by first screwing the included filter holder adapter ring onto a lens with 77mm front filter threads. Separately available adapter rings allow the filter holder to be used with lenses that have 37mm, 39mm, 40mm, 40.5mm, 43mm, 46mm, 49mm, 52mm, 55mm, 58mm, 62mm, 67mm, 72mm, and 82mm front filter threads. After being fitted onto the adapter ring, the filter holder's push-and-release locking lever helps to provide a reliable, yet adjustable connection that allows the holder to be rotated 360°, further benefiting the use of graduated neutral density and other filters that are enhanced by varied positioning. To help prevent stray light, which could have unwanted effects on exposure, from coming in-between an installed filter and a connected lens, two gaskets are included along the front of the M10 Filter Holder. These gaskets are positioned so that together, they form a seal between the filter holder's slots.
The M10 Filter Holder also accommodates an included drop-in circular polarizer filter. That filter is mounted within a geared filter ring assembly with an external dial, which allows for the independent rotation of the circular polarizer filter to adjust the intensity of its effect. Drop-in neutral density graduated neutral density, and neutral density polarizer combination filters are separately available. For still images or video captures where a drop-in filter is not in use, a drop-in cover is provided to occupy the filter holder's accessory slot for those filters. The cover then serves to prevent stray light from coming in-between the filter holder and the lens behind it.
An additional pair of filter holder slots are provided, as well as a leather case for the storage and transport of the entire Haida M10 Filter Holder Kit.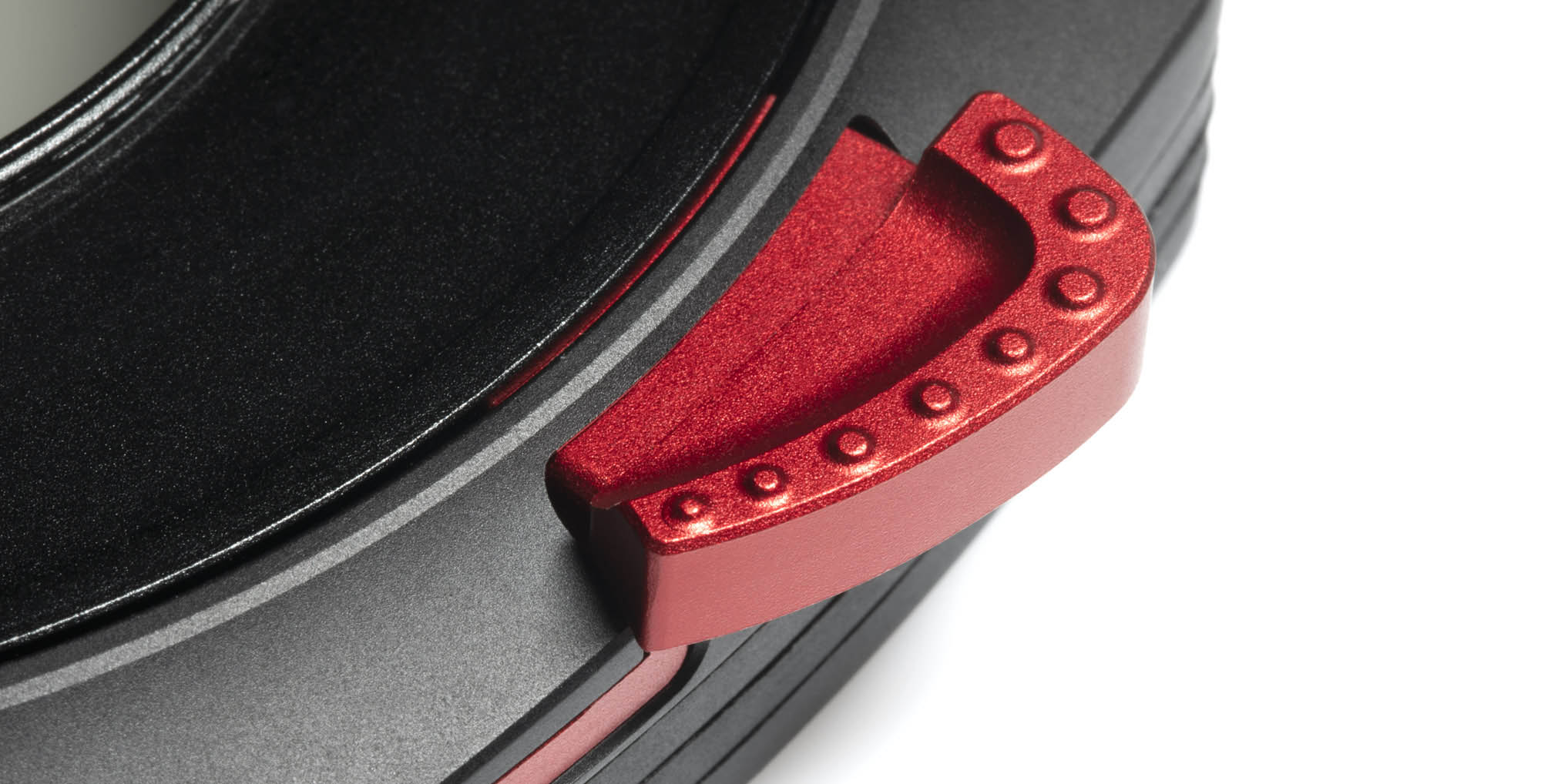 Optimized Quick-Release of
Main Adapter Ring
The filter holder includes a quick release tab that allows you to quickly and easily detach it from the threaded filter adapter. This feature makes it easy to remove all of your filters at once.
New Filter Slots
The M10 Pro comes pre-installed with two pairs of plastic filter slots, the aluminum alloy filter holder is initially configured to accommodate two rectangular filters. An additional pair of filter holder slots is provided so that up to three square filters can be used at once.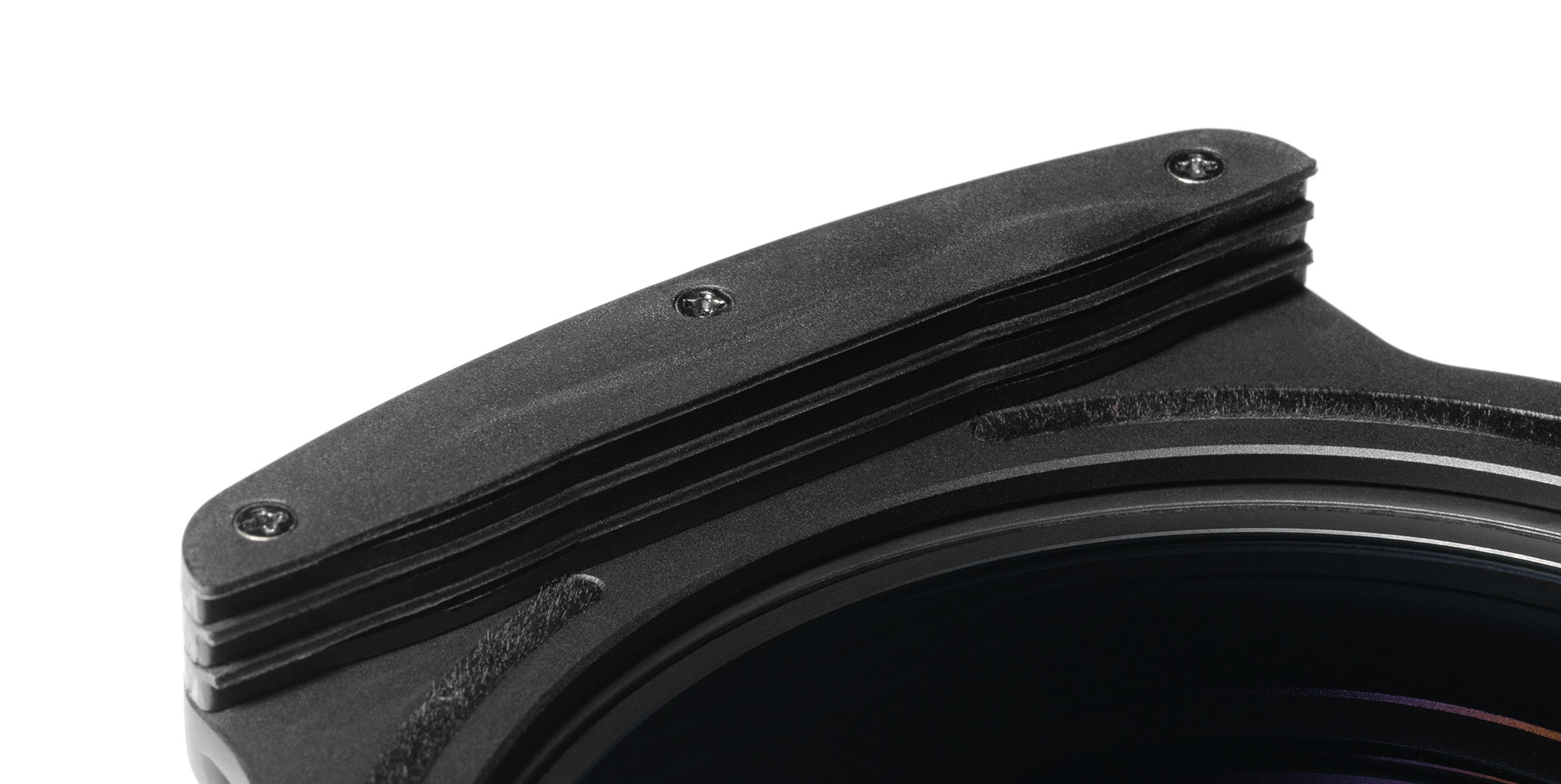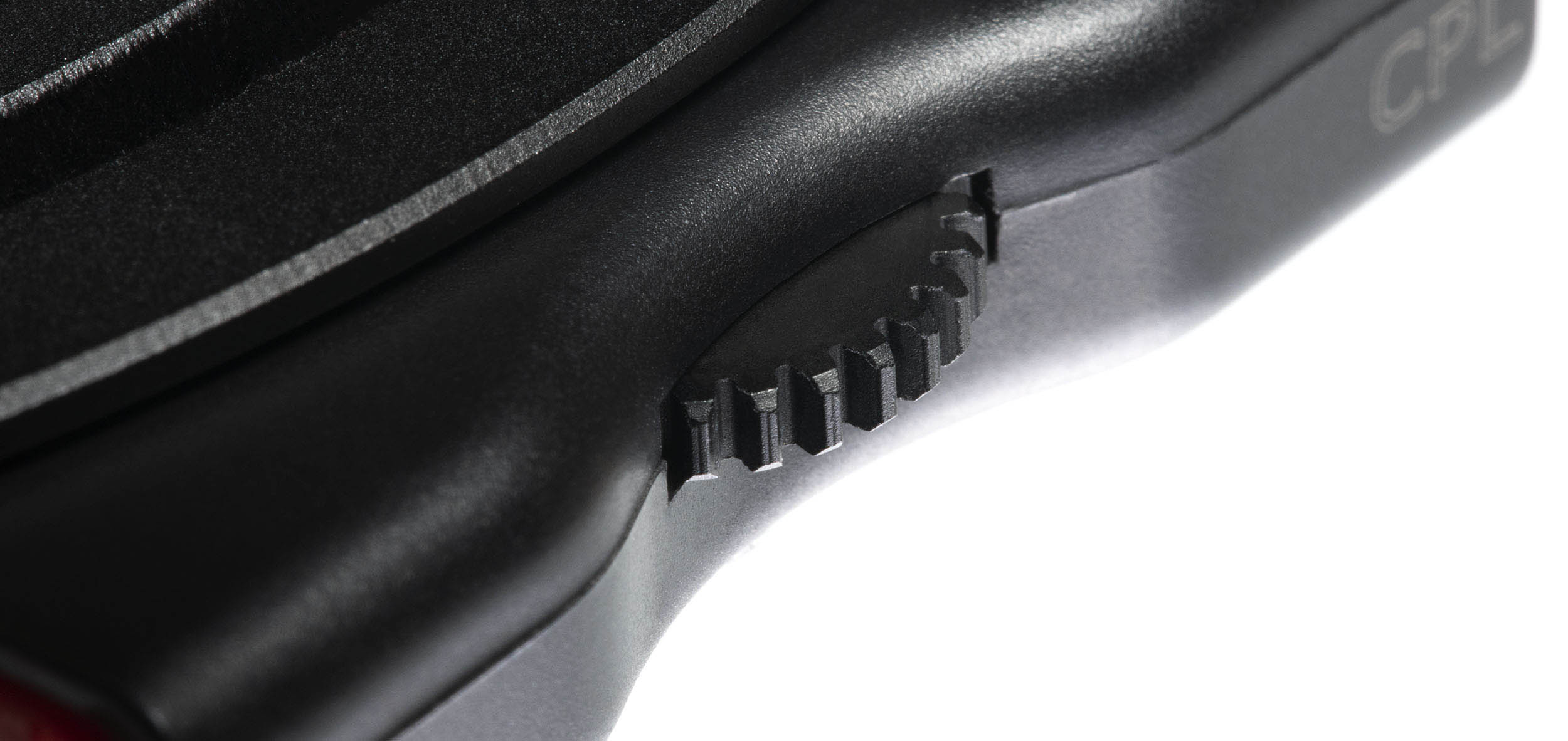 Gear Design For Rotating CPL
The M10 Filter holder includes a gear on the drop-in filter slot to make it easier to rotate the CPL once the square filters have already been inserted into the filter holder.
New Drop-in Slot For Quick Filter Insertion
The new design allows the included round circular polarizer filter to be clipped into the holder, which does away with having to screw in threaded polarizers, allowing for quicker setup times. With less time spent on assembly, you have more time to spend on the creative process.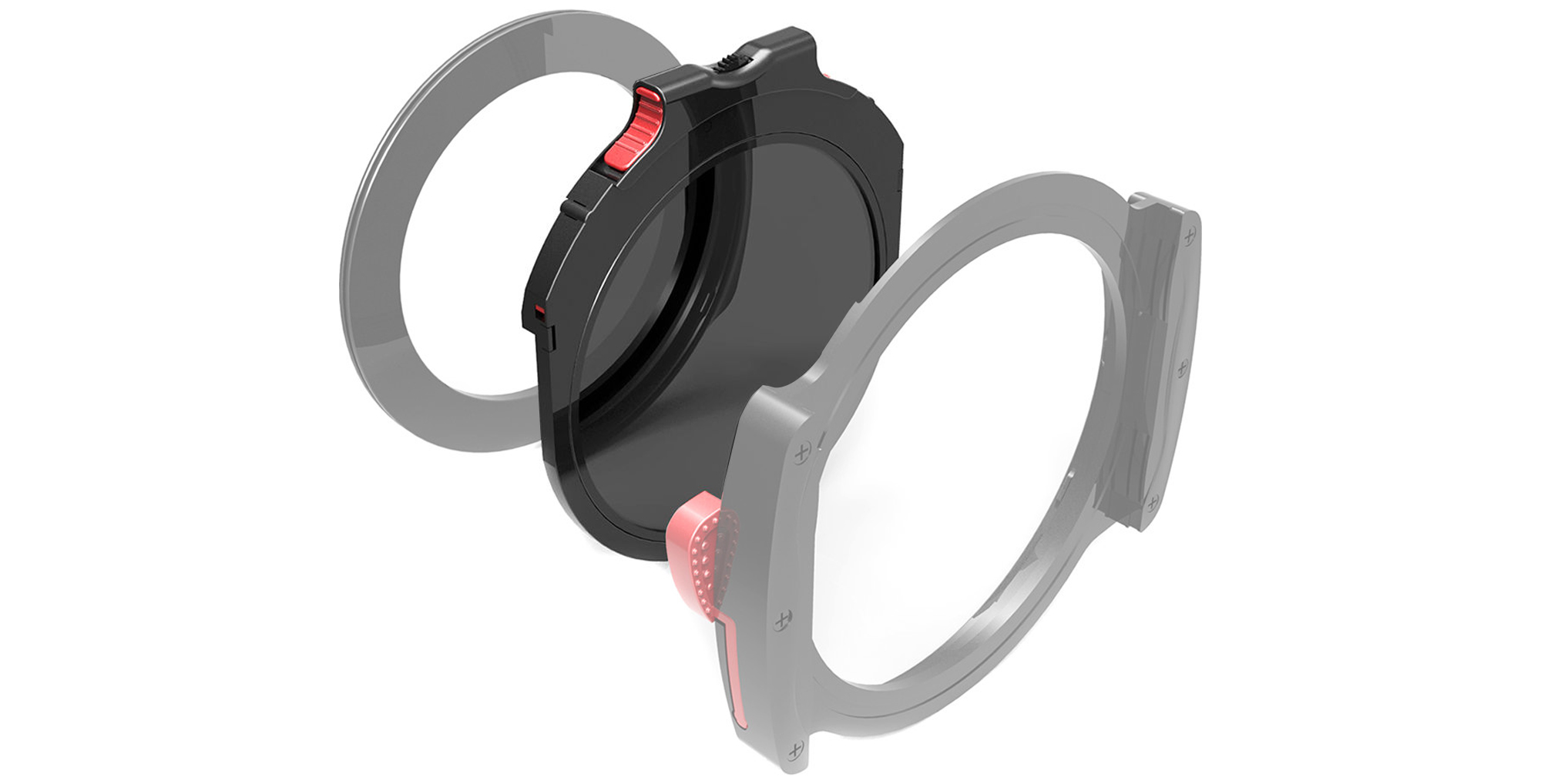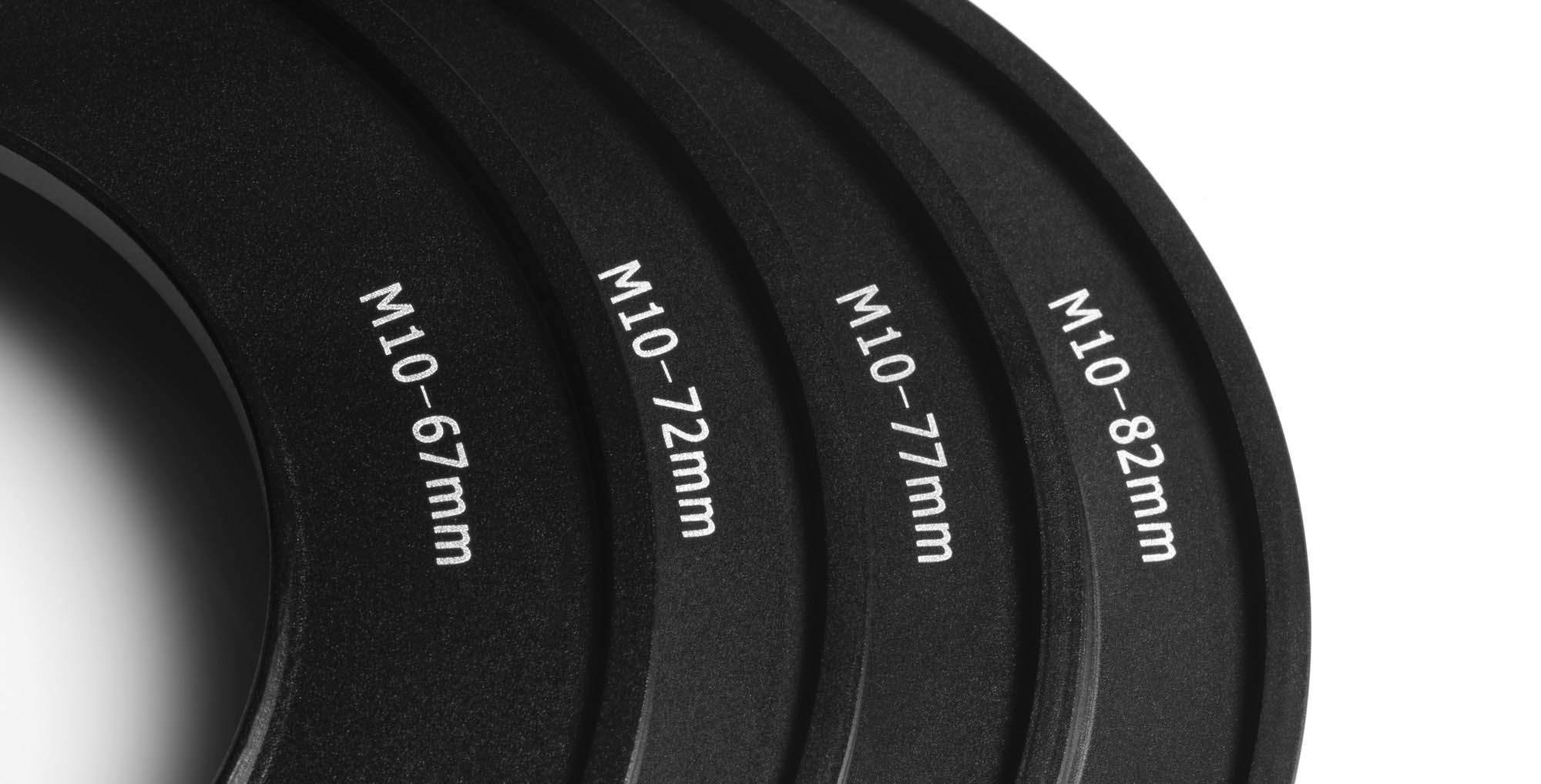 Includes The Most Popular Adapter Rings
The M10 Pro kit comes complete with a drop-in CPL and 4 adapter rings for most popular wide-angle lenses (67mm, 72mm, 77mm, and 82mm).