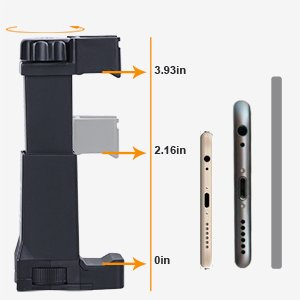 Phone Holder Width
Fits smartphones from 2.16in to 3.93in wide and applies to most mobile phones on the market. It can stabilize the phone while protecting the edge of the phone from damage. In addition, CVM-R2 owned many advantages, such as simple assembly, easy installation, lightweight and easy to carry etc.
Flexible Combination
CVM-R2 phone video kit can be used with a variety of different accessories such as a shotgun microphone, wireless receiver, or LED light
Easy to Install & Removable Parts
The CVM-R2 includes a handgrip which can be easily mounted by using the 1/4-20 screw.
Silicone phone Clamp
Made of silicone material, It can stabilize the phone and protect the edge of the phone from damage.
Swingable Hot Shoe
Bottom & Top 1/4 External Port and Hot Shoe Mount are universal for almost of camera accessories, such as a tripod, extension rod, LED light, shotgun microphone, receiver etc.