The CVM-WS50A is a wireless lavalier microphone for smartphones between 2.25-3.5 inches thick. The receiver for the wireless microphone doubles as the phone holder and has 1/4-20 recesses on the top and bottom of the unit. These recesses allow the receiver to be mounted to a handle, like the one included in the kit, and for additional accessories like lights to be mounted to it. And included TRS-to-TRRS male-to-male 3.5mm cable is included to connect the receiver to the smartphone. There is also a 3.5mm port for headphones, so the audio may be monitored in real-time, and step-less volume adjustment on the receiver. Both the receiver and transmitter have LCD screens displaying battery life, mute status, and real-time audio level monitors. It includes a start/stop remote Bluetooth controller.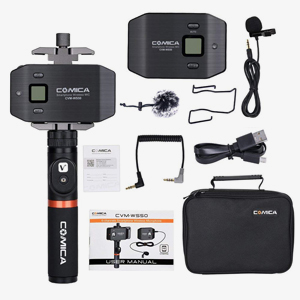 Real-time Audio Monitor
Initially build-in real-time monitoring function of smartphone clamp microphone, you can listen while recording, and monitor the audio status to complete the recording at one time.
Stepless Volume Adjustment
Equipped with the stepless volume adjustment dial to adjust the volume for your own.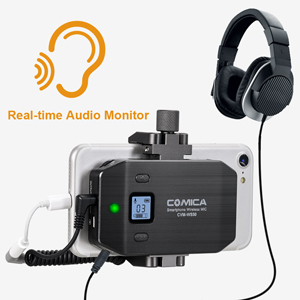 U
SB Charging Interface
Equipped with a USB Charging Interface, it is available in charging with mobile power supply (Charge Pal).