EG20A2D
The EG20A2D is a complete tripod solution with a dolly that can handle loads up to 44.1 pounds. It is based on a 100mm bowl, which is designed to support a variety of camera, lens, and teleprompter configurations.
SLIDE RANGE
The 8-inch tripod plate mounts the teleprompter system to the fluid head and provides an extra 6 inches of sliding range to counterbalance your entire teleprompter and camera setup.
PAN & TILT LOCKS
The fluid head features individual locks for both the pan and tilt.
COUNTERBALANCE
The fluid head provides smooth panning and tilting while there are 8 levels of adjustable counterbalance.
DUAL PANHANDLES
The dual panhandles allow you to maintain firm control on your shots. These panhandles also work perfectly for mounting zoom, focus, and iris controls. The length range for each panhandle is 16.7″ to 24″
100MM BOWL
The fluid head includes a 100mm bowl mount with a twist lock to secure the teleprompter and camera payload.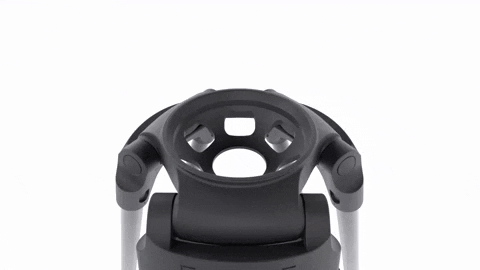 HEAVY-DUTY TRIPOD
The heavy-duty tripod is made of aluminum and the legs are a twin tube design with two stages. It includes the E-Image Mono-Lock design which allows you to control the height of both stages with a single twist lock. The tripod by itself can be adjusted to a maximum height of 63" and a minimum height of 18" with a folded length of 29".